Semaine missionnnaire du 15 au 23 juillet 2017 - Open Good News
The Sisters of the Good News

Contemplative life in communion with Families of the Fourth-World
We go in search of the most destitute families of a city to gather them.
"Go out quickly to the streets and lanes of the city, and bring in the poor and maimed and blind and lame." (Luke 14, 21)
We group the poorest families around the Word of God :in this way the construct their identity as Christians of the Fourth-World. We desire that the poor become active participants in the liturgical prayer of the Church.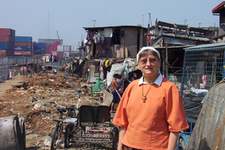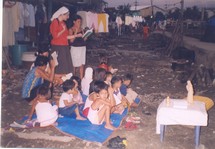 "True worshippers... in the spirit and truth...the Father seeks" (Jn 4, 24)
Our religious obedience, grafted on that of Jesus, is adoration of the Father and collaboration with his Project.
Each one adopts the attitude of listening to the Spirit not only in her activities but also in her prayer :The Eucharist, Prayer of the Hours, Personal Prayer, Moments of Silence, Monthly desert day
We give to the families of the Fourth-World the means to transmit their faith to their children and to theirs surroundings.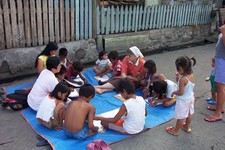 "And about the eleventh hour he went out and found others...no one has hired.
He said to them, 'You go into the vineyard too.'(Mt 20,6-7...)
We shall lead the Christians to be challenged by their faith.
"I thank thee, Father...that thou hast... revealed them to babes." (Mt 11,25)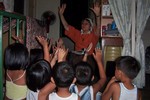 Our own faith is enlightened and deepened by the words and by the life of the poorest people.
JESUS shares with us His love for the Father... and leads us to encounter the families of the Fourth-World... So that the poorest among the poor may participate in the construction of the Church.
Live in small communities (3-5 sisters)
Inserted in the midst of the poorest people
In an apprenticeship of silence and peace.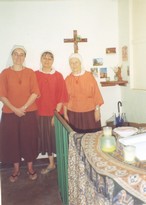 Our first community was founded in 1986 at Toulouse, in France, with scattered and outcast families of the Fourth-World.
With our new foundation in Manila, in the Philippines in 2004, we join the poorest families of squatter areas.
We go in search of the most destitute families in slums all around the world.
Sisters of the Good News, Sna Lorenzo Ruiz Parish , Phase 1-c Kaunlaran Village, Navotas Metro ManilaPhilippines E-mail : This email address is being protected from spambots. You need JavaScript enabled to view it.
Soeurs de la Bonne Nouvelle, 9 rue des Chamois, Appt. 322, 31200 TOULOUSE France e-mail : This email address is being protected from spambots. You need JavaScript enabled to view it.
At the end of the two and a half years, what can we bring to light from our presence in this "squatter area" ? It seems to be that gathering factor for the community with whom we live, as well as that deep self-questioning for the young volunteers who come to offer their time and dynamism.
Our Presence, a Gathering Factor
Sharing their Sorrows. Too many people die young : infants and children dying from disease, youth murdered in brawls - sometimes even by the police, young parents dying, leaving behind very young children and families with a lot of children. The dead are left exposed in white coffins for at least a week, sometimes for almost a month in order to raise money - so the family can afford a funeral. These moments give us a great opportunity to express our sympathy as well as to show God's love for them as we pray before the coffin. Always the most concerned call the others to join us in prayers. At the end, there are always the smiles of heartfelt gratitude. This is likewise done in areas less poor than the areas under the bridge.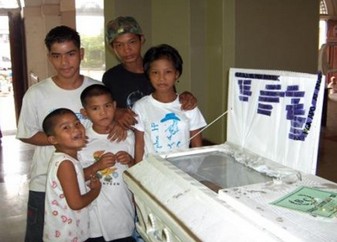 "My most amazing discovery is the ritual of death in the Philippines. There have been a few deaths in the squatter area this week : a man, 74 years old, a young man of 22 years old, murdered, and a sick woman of 37 years old. Their coffins are glass-covered to allow people to see the dead and remains in the family's house or in the street if the house is too small, for a period of two to three weeks. During this time, the family tries to raise enough money for the funeral. People play cards and bet money and pay the family and contribute an amount for the funeral expenses. As occidental people, we may be shocked at such a way of handling the death of a loved one. On the contrary while our occidental society wants to hide death, Filipinos have learned to accept it as part of life. The presence of the body for some time, at home, is also perhaps a good way to peacefully kiss a loved one goodbye." (Sylvian, French volunteer in August 2006)
Last year, the community under the bridge was distressed by demolitions, and again this year by deaths. In August, Nenita 37 years old, a mother of an only son who is 13 years old, died on All Saints Day, a father of 6 children - ages 1 - 14 years old, drowned in a river. And then there was Mary Jane and Renanto's two months old baby ...
Eighteen year old Mary Jane and nineteen year old Renanto live under the bridge with Mary Jane's mother. Renanto's mother also lived nearby. In September 2006, baby Renalyn was born.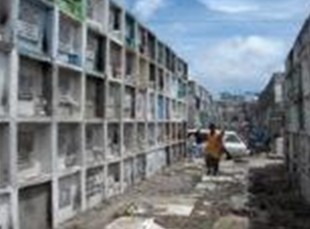 Cemetery of Navotas
"Sister, would you have a medallion for my baby...to bless her ?" That is how I came to know Mary Jane one morning in the street, coming from mass. It seemed important to her and she asked me again until I bring it at last one evening.
One Sunday in November, her mother-in-law informed me that the baby was sick in the hospital, and the following Tuesday, baby Renalyn's coffin was already at the entrance of the bridge. Mary Jane asked if we could pray at the wake one late morning. Though she was not there, we were able to pray with her and Re-nanto two days later. As we prayed, they seemed lost. They did not know what to say. They also did not know the songs or the Our Father. But the "nanays" (mothers) who take part in our activities sup-ported them. It was clear that they were not practicing Catholics, but at the end, they were smiling and saying "Salamat" (thank you). As there was no money, they had to keep the body for another week.
Thoughts of a Brother of Assumption
Brother Ed is in the end of his theological formation and discerning towards final commitment to religious life.
After his immersion with families who live under the bridge at Navotas, with the Sisters of the Good News.
How can I put the experience quite simply ? It is like seeing the ugly face of poverty, of misery, up close for the first time when it had been there all along.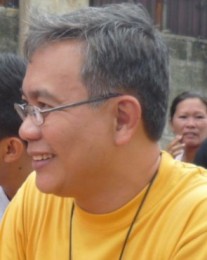 Perhaps, I was more disposed to see it now than I was before. Whatever it is, it was something I had not planned and foreseen.
It began with a chance meeting with the Sisters of the Good News on their 5th anniversary. The people I met there were poor but probably not so different from the many other poor I had met before. I did not know why I asked the sisters if I could come and visit and see the apostolate they were doing. There was something intriguing in the way they interacted with the poor. As one Indonesian priest said, I did my immersion with the sisters and I just had to come back and bring others here.
And so I came back the following weekend, and the weekend after and the next, until now.
What I did when I went there. Perhaps, nothing. Nothing in the way of teaching, catechizing, giving relieve goods or food, not even celebrating together the Eucharist, not much of doing but more of being there, being present with them.
I was present in the same reality that they are in. I was sharing a few hours of my free Sunday afternoon with them ; looking at their faces. Amazed that they are able to smile given the condition they are in ; big flashes of smiles from kids and adults alike.
I listen. I listen some more. I allowing their stories to fill my thoughts.
I wonder, as they spoke, about their positive outlook in life. How could one be optimistic and calm about things when one lives in the edge of society ? Forgotten. Relegated to live in a small piece of land under a bridge beside a black smelly river that often threatens their lives. I wonder how it is possible to constantly live with the reality of demolition and still share about their plans for their children and themselves. I wonder how it is possible for anyone to live this way.
I had not stared at poverty face to face this way before. Humiliating. Degrading. Inhuman. I had not willingly stayed or lingered enough to smell the stink of dead rivers. I had always found a way to avoid them. I often saw dirty naked children playing but never stayed close enough to touch them or play with them. I had not allowed the stories of fathers and mothers, faces worn out by life, in tattered clothes and with foul breath to speak to me about their hopes and dreams, their pains and difficulties.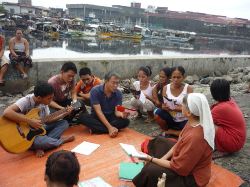 Perhaps, I have seen this before but it had not touched me as it touched me today. I had always preferred to stay at a distance. I realized that I had not only placed a physical distance between them and me, but my heart was distant as well. I could not feel with them because I was never one with them. I am not one among them.
What embarrassing realization. How incongruent, even a sham, to say that I am not one with the poor ; to think that I am preparing to do ministry and to follow in the footsteps of the One who in complete solidarity with humanity took on flesh and became one of us.
What a scam. Enough talk about solidarity, simplicity and poverty when, what matters most, the heart is distant and indifferent.
I recognize that I could trivialize this experience by allowing myself to merely feel bad about myself, guilty and ashamed. That would be the very least this experience could accomplish. Instead, I feel that this is a most propitious time for this to happen. In a way, this experience is a gift, a most fitting gift of the Spirit.
Slides 2012 : download here !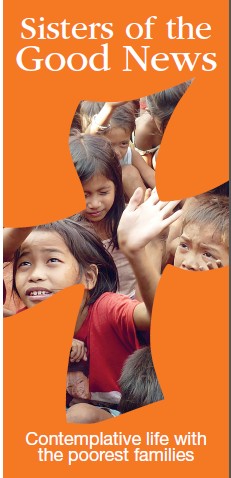 January 2014 - Happy New Year
Illuminated by the Presence of Jesus... As shown by these 'juniors' from Virgo Drive.