Contemplative life in communion with Families of the Fourth-World
We go in search of the most destitute families of a city to gather them.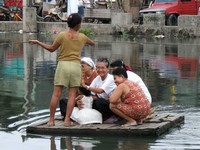 "Go out quickly to the streets and lanes of the city, and bring in the poor and maimed and blind and lame." (Luke 14, 21)
We group the poorest families around the Word of God :in this way the construct their identity as Christians of the Fourth-World. We desire that the poor become active participants in the liturgical prayer of the Church.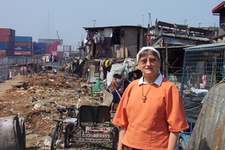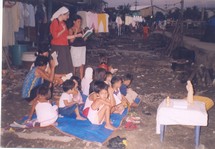 "True worshippers... in the spirit and truth...the Father seeks" (Jn 4, 24)
Our religious obedience, grafted on that of Jesus, is adoration of the Father and collaboration with his Project.
Each one adopts the attitude of listening to the Spirit not only in her activities but also in her prayer :The Eucharist, Prayer of the Hours, Personal Prayer, Moments of Silence, Monthly desert day
We give to the families of the Fourth-World the means to transmit their faith to their children and to theirs surroundings.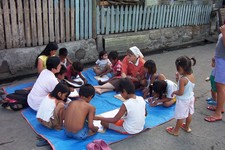 "And about the eleventh hour he went out and found others...no one has hired.
He said to them, 'You go into the vineyard too.'(Mt 20,6-7...)
We shall lead the Christians to be challenged by their faith.
"I thank thee, Father...that thou hast... revealed them to babes." (Mt 11,25)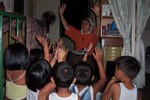 Our own faith is enlightened and deepened by the words and by the life of the poorest people.
JESUS shares with us His love for the Father... and leads us to encounter the families of the Fourth-World... So that the poorest among the poor may participate in the construction of the Church.
Live in small communities (3-5 sisters)
Inserted in the midst of the poorest people
In an apprenticeship of silence and peace.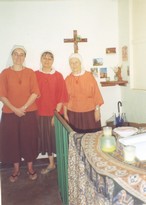 Our first community was founded in 1986 at Toulouse, in France, with scattered and outcast families of the Fourth-World.
With our new foundation in Manila, in the Philippines in 2004, we join the poorest families of squatter areas.
We go in search of the most destitute families in slums all around the world.
Sisters of the Good News, Sna Lorenzo Ruiz Parish , Phase 1-c Kaunlaran Village, Navotas Metro ManilaPhilippines E-mail : This email address is being protected from spambots. You need JavaScript enabled to view it.
Soeurs de la Bonne Nouvelle, 9 rue des Chamois, Appt. 322, 31200 TOULOUSE France e-mail : This email address is being protected from spambots. You need JavaScript enabled to view it.